At the time of this writing, there has been much excitement and talk of the lottery.  The Powerball jackpot was an estimated $550 million.  People were seen standing in long lines, spending much money, hoping to be the lucky winner.
There is no doubt that many Christians waited in those lines, pooled their money for group tickets, or even spent next month's rent to cash in on the big one.
It doesn't sound too bad, though, right?  After all, a few dollars today could be the answer to all of our troubles.  We can pay off the mortgage, put the children through college, take care of all of our debts, help our family and friends with their troubles, and even give a lot of money to the church and missions.  On top of that, we will be set for life, and we will never have to worry about money again.  Relief!
I can't argue with those hopes, but I have to wonder what the Bible says about it.  After all, we must be careful to stand where God stands on every issue.
So, let's go to the Bible to answer this lotto question…
Does the Bible mention the lottery?  If you are looking for the word, lottery, then, no, it is not in the Scriptures.  However, if you understand that God does not have to mention every issue, by name, of every culture of every time period to address it, then, yes, He deals with the lottery – quite clearly.
The truth is that no Christian has any business playing the lottery.  I believe the lottery is a device of the Devil and that it is straight out of Hell.  It promises riches and better lives, but it is only deceitful riches and vanity.
1.  The Lottery is Gambling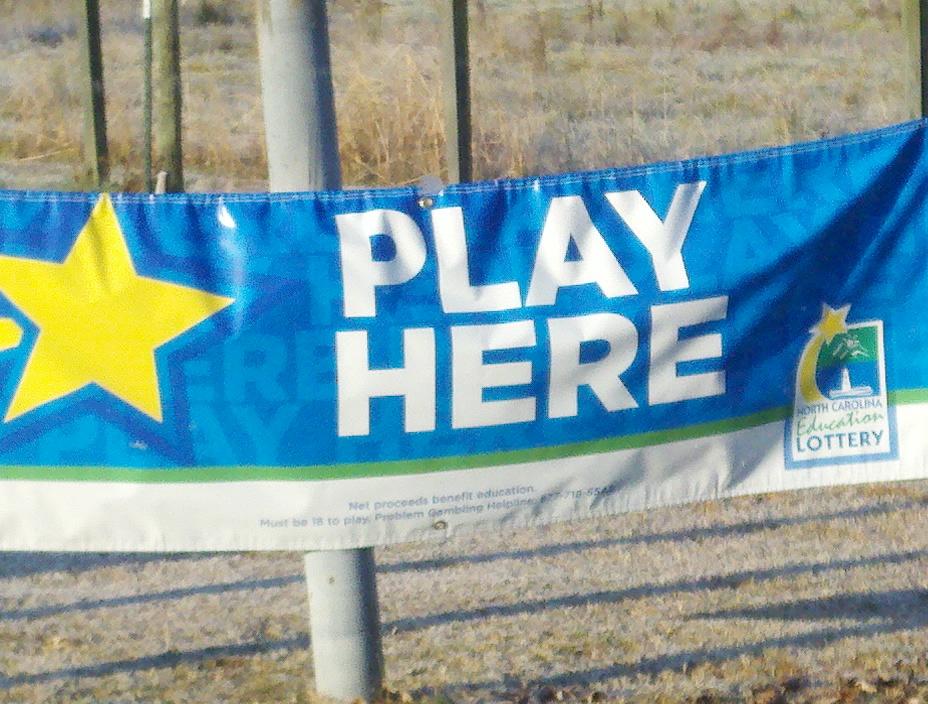 Last week, I noticed a banner at a convenience store that advertised the North Carolina lottery.  Underneath the advertisement, in fine print, was a phone number for a gambling hotline.  Even the state accepts that the lottery is gambling!  You do not have to go to Las Vegas or Atlantic City to gamble!
Gambling is based upon the love of money.  The reason people gamble with what they have is to make more.  Perhaps they had every intention of using that money for noble purposes, but it is against God's methods of obtaining wealth.  The ends never justify the means.
The state claiming that the lottery is for education is no excuse to have such an ungodly system.  Gambling is never a good way to raise money for education.  The ends never justify the means!
Proverbs 13:11 – "Wealth gotten by vanity shall be diminished:  but he that gathereth by labour shall increase."
Gambling goes against old-fashioned hard work.  Gambling is a get-rich-quick that seeks to obtain what we want/need our way rather than by seeking God and going His way.
2.  The Love of Money Brings Sorrow
How many stories have been told of those who won the lottery but lost everything?  When we do not seek the Lord, we will gather trouble.
I Timothy 6:10 – For the love of money is the root of all evil:  which while some coveted after, they have erred from the faith, and pierced themselves through with many sorrows.
God did not say that money was the root of all evil; He said the love of it is the root of all evil.  Those who love money – who think hitting the jackpot is the answer to all of life's troubles – will only find sorrow.   Notice the troubles of this verse:
They erred from the faith.  Loving money is a wedge between you and God!
They pierced themselves through with many sorrows.  Like King Saul fell on his own sword, the lottery pierces you with trouble.
Proverbs 15:27 – He that is greedy of gain troubleth his own house; but he that hateth gifts shall live.
Quite simply, this verse shows that you might have "easy street" from your gain, but your children and house will suffer for it.  The lottery brings a curse upon your family.  I would rather my children be with me in Heaven than to give them the world and raise them without God's grace.  My children and family are more valuable to me than Powerball.
Proverbs 11:28 – He that trusteth in his riches shall fall:  but the righteous shall flourish as a branch.
If you think the lottery is the answer, you will fall.  If you think mega millions will solve your life, you are on a downward spiral.  Trust Christ, serve God with reverence and godly fear (Hebrews 11:28-29), and you will flourish as a branch.
3.  Lottery Winnings Will Not Prevent Death and Judgment
Psalm 49:6-7 – They that trust in their wealth and boast themselves in the multitude of their riches; None of them can by any means redeem his brother, nor give to God a ransom for him:
Even if you did win big and managed to live your dreams, you should know that you will someday face God.  Those who won last week's Powerball cannot prevent death nor a meeting with God.
Riches do not change one's eternity; only Christ can set the sinner free.  Jesus even said, "How hardly shall they that have riches enter into the kingdom of God!"  Does this mean that a rich person cannot go to Heaven?  No.  It does mean that riches often lure men away from God.
The lottery won't send you to Hell, but it can keep you from the only One who can save you from Hell.
When I stand before God, I want to give a good account of my life.  There are simply some things I do not want on my record – including lottery tickets.
I hope to conclude this thought on the lottery tomorrow.  May God bless you as you seek His face.
<TO BE CONTINUED…>